{Ramadan Special} – Easy Mango Lassi by Farhana of 'The Engineered Baker'
I
t is always a pleasure to meet new enthusiastic food bloggers.
Farhana
of
The Engineered Baker
' is one of them. Farhana says, I spend my days programming and baking/crafting by night. Her blog is reflection of her passion…Along with some interesting recipes you can find beautiful craft ideas too….In today's post this engineered baker has bought us a refreshing drink….which is a must after a heavy Iftar meal….
Salam all 🙂 I was so honored when Lubna contacted me to do a guest post for her Ramadan series. I followed her last year, it was really amazing to see all the bloggers that she brought together and am grateful to be here, sharing this year!
Growing up all over the world, I have been fortunate to experience the festivities of Ramadan in many a cultures. But irrespective of country or culture, Ramadan is always about celebrating our blessing with friends and family. It probably is one of my favorite times of the year, how can it not be!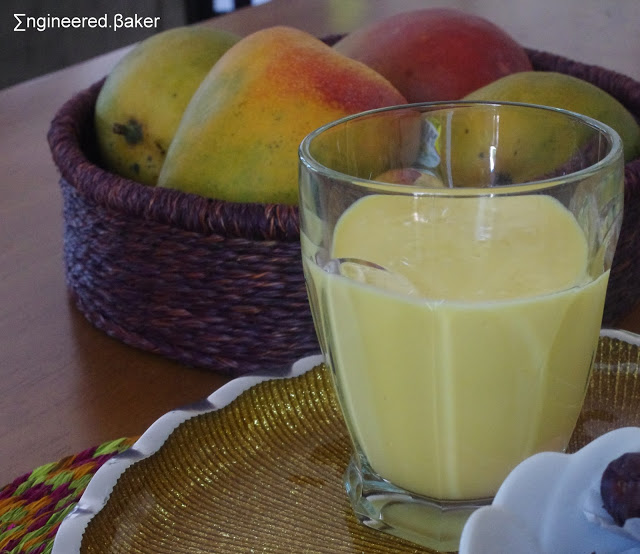 The past few years I have been living in the Northwest American, where days are longer than average, but fortunately temperatures are not so high. Always remember to count your blessings and not complain! Coming from a Bangladeshi background, Ifter always a lot of fried items, so to balance it out, I love to always have a juice or smoothie on the side. So today I am sharing a mango lassi recipe. I see myself making this a lot this coming year, I love mangoes so I look for any excuse to make it 🙂 Enjoy!
about 4 servings (but can easily be doubled or tripled or as many times as you wish!)
INGREDIENTS:
1 cup yogurt (any fat level)
1/2 cup milk (any fat level)
3/4 cup mango puree
4 Tbsp sugar
1/2 tsp salt
Add everything to a blender jug and blend until completely mixed. If the mixture is too think, just add more milk to thing it down 🙂
Yes! That's it, so easy 🙂 Hope you enjoy it and give it a try. Its a really soothing drink to have after a long day of fasting!
Thank you Farhana for taking out time and participating in this 'Global Ramadan Event – Joy From Fasting To Feasting – VIII'.