As-salamu alaykum, Hope you are all doing fine. As the days of fasting go by, the list of members participating in the event are also increasing. This is the time of the year, where I come across many new bloggers and learn new recipes from them.
As many of you know, I recently got blessed with cute little princess. She keeps me busy all the time. This leaves me with very little time to concentrate on the Ramadan event. Allhumdulliah, this is the third season of the global Ramadan event '
Joy From Fasting To Feasting
" and the response has been overwhelming. I am truly grateful to all the participants who have been part of this event. Here is the updated list of entries to the event….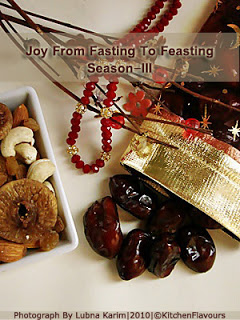 Joy From Fasting To Feasting – Season III