{Ramadan Special} – Bread Pockets by Febina of 'Febi's Cookbook'
Allhumdulliah….It is already 10th day of fasting….Time is running so fast…In today's post Febina of
Febi's Cookbook
has come up with a interesting recipe for our Iftaar time. I know seeing the post today many of you will be trying this snack at home…Simple and innovative recipe….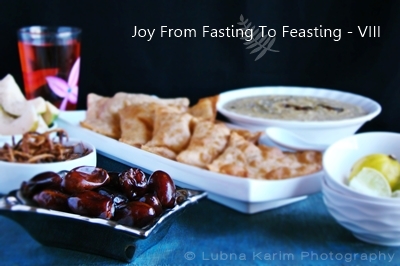 Thinking about blessed holy month of Ramadan already fills me with chills when people are so much around, mosques crowded, streets busy, everything seems so special. Especially being in an Islamic country like UAE, I enjoy the benefit of husband returning from work early, due to short working hours for all companies and then roads during night time is so lit up and busy, anybody can roam around safely no matter even if you are alone. Its definitely a month of devotion and religious commitment, which is only why you can still fast in full spirit no matter how long the fasting hours are and that too when summer is at its peak. Its a month when Quran was sent to our Messenger Muhammad S.A. and we give so much importance in spending our time in recitation of Quran and that is mostly how I spend my time of worship or Ibaadah apart from obligatory prayers during Ramadan.
Of course apart from religious commitment, we are supposed to cook for the Iftar (fast breaking time) but taking care you do not get carried away and spend so much time in cooking.
Speaking of today's post, this is my third guest post and second guest post for Lubna's blog. When she requested to do a post for her Ramadan series, there was no thinking twice, it was definitely a yes from me. But as I mentioned earlier, I do not appreciate spending too much time in the kitchen during this blessed month as every moment is precious and should be carried in the remembrance of Allah, I was really scratching my head for me to come up with a recipe which was less time consuming at the same time, I was stubborn it should be an Iftar special. Then did this recipe of Bread pockets clicked in my head. Its not my invention but I came out with my own filling. After all, I come from a place where people especially women are so obsessed and passionate about cooking and feasting. I am talking about a coastal part of Kerala, the Malabar. Every Ramadan I come across some new recipes from family or friends, which would mainly serve as Iftar (fast breaking) snack during Ramadan. And so was this recipe. How people back home are so talented!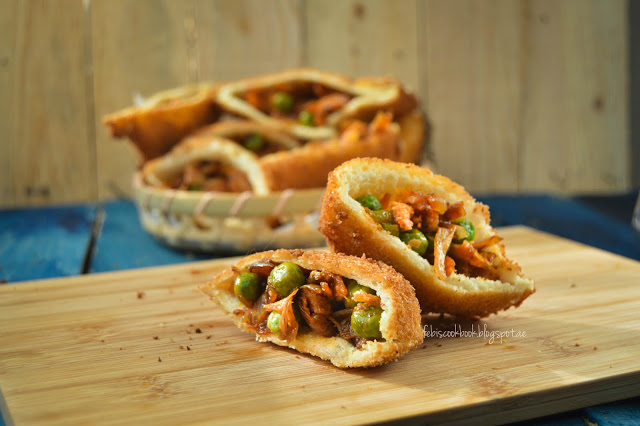 Its super easy to make.. all you need is your filling ready. You can go free with your ideas and use any filling as simple as some mix of veggies or some shredded chicken alone or you can get a bit fancy like I did. The main part is the crunchy bread. To attain it, all you have to do is cut off the crust of Bread slices. Flatten 2 slices of bread together with one overlapping other, using a rolling pin. Then cut the bread into round shape about 3 inches in diameter using any lid or cookie cutter. Then coat the circles in egg mix and then bread crumbs and deep fry by doing which it will puff up like pooris and cut into half to get half moon shapes and fill with your favorite filling. The bread turns so crunchy and yummy and the filing I used here turned out to be really yum that it reminded me of chili chicken you get from restaurants. So if you find time, try this filling for sure.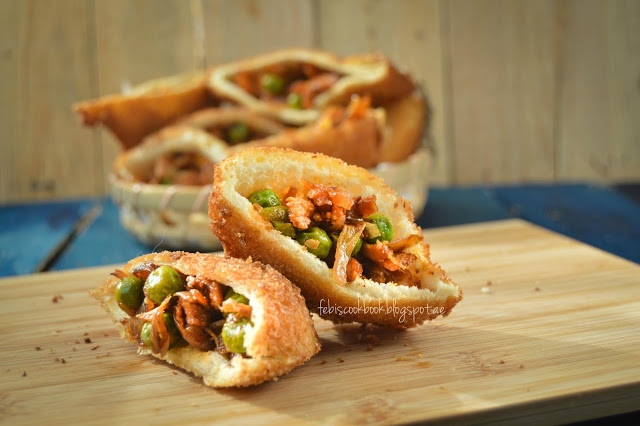 INGREDIENTS:
FOR BREAD SLICES:
Bread crumbs
1 Egg, beaten
FOR FILLING:
2 Onions, chopped
1 tbsp. Ginger-Garlic paste
1/2 Tomato, chopped
1/2 tsp. Kashmiri chili powder
1/4 tsp. Turmeric powder
2 tsp. Tomato ketchup
2 tsp. Mayonnaise
1/2 cup Chicken, boiled and shredded
1/2 cup Green peas, i used frozen ones
Oil for deep frying
Salt
PREPARATION:
TO MAKE FILLING:
Heat a pan and heat a tablespoon of oil.
Saute onion in it. Add ginger garlic paste. Saute till onion turns golden brown.
Add in the chopped tomatoes, saute till tomatoes turns mushy.
Add Kashmiri chili powder and turmeric powder. Mix well.
Add tomato ketchup and mayo. Mix.
Add frozen green peas and saute for few seconds.
Then add chicken. Mix till the masala coats well on the pieces of chicken and off the flame.
Keep the filling aside.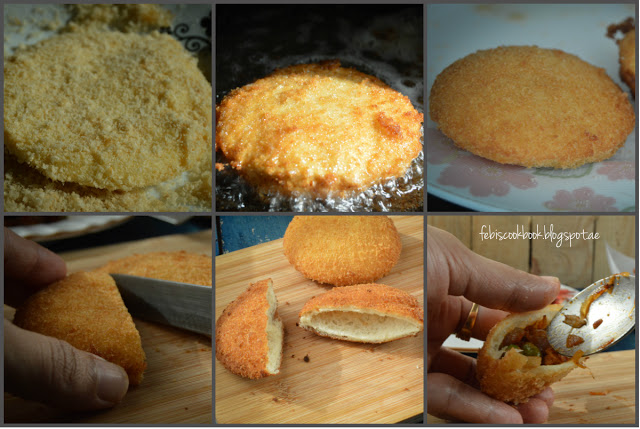 TO BREAD SLICES:
Take the bread slices. Cut off the crust.
With two slices, one on top of the other, using a rolling pin flatten the slices.
Using a cookie container or any lid big enough cut circles out of the bread slices.
Reserve the the remaining portion of bread to make bread crumbs.
Repeat the same with other slices. Approximately 10 slices will be required.
Dip the circles in beaten egg and coat in the bread crumbs.
Heat oil in a wok.
Deep fry the circles till it puffs up and changes color to golden brown. Transfer the fried circles onto a paper towel.
Cut the circles from center to get pockets. Fill the pockets with filling.
Add in the chopped tomatoes.
Serve hot and enjoy.
Thank you Febina for coming up with this lip smackingly recipe to our 'Global Ramadan Event – Joy From Fasting To Feasting – VIII'.