While everyone enjoys eating out at a quality restaurant, even the most loyal of restaurant patrons would undoubtedly like to be able to recreate some of their favourite dishes at home. Middle-income urban Indian millennials spend as much as 10% of their total food budget every year on eating out and buying takeaways or pre-cooked meals from supermarkets and caterers according to a  Nielsen report. The ability to recreate restaurant favorites in the comfort of your own kitchen will not only save you a substantial amount of money but is also bound to be a healthier option as well. There are a number of popular current trends, such as the following, that can easily be replicated at home.
Fusion food
If you want to get a head-start on embracing one of the hottest restaurant trends predicted for 2019, you will be happy to know that culinary influences from the Middle East are bound to increase in leaps and bounds. Spices such as za'atar, cardamom, tahini, and mint are going to be spotted on an increasing number of menus while traditional Indian cuisine such as coconut noodles, potato croquettes, rice with saffron nuts and curried lentils is expected to be the other major flavour influence next year.Replicating restaurant-quality Indian cuisine at home should be a breeze, especially considering the plethora of superb recipes that are undoubtedly available both from family and friends as well as online.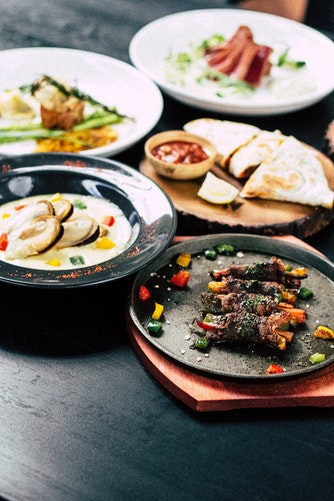 Farm to table dining
Globally there has been an upsurge in eateries that focus on healthy, sustainable food. In the USA, the Riot Hospitality Group under the watchful eye of CEO Ryan Hibbert has already opened two of their own sustainable eateries known as Farm & Craft. But looking at India, restaurants have been riding the farm-to-table wave for some time already thanks to an increased desire among the public to consume meals made from organic, fresh produce. The farm-to-table trend can easily be copied at home by planting a small vegetable or herb garden and only purchasing local, ethically-sourced ingredients. Whether you want to make a delicious traditional curry or a colourful salad, you can't do better than using ingredients fresh from your own garden.
Gut-friendly food
Gut-friendly foods such as kimchi, miso and kefir are making their way onto the menus of the world, much to the delight of India's growing health-conscious population. While it may seem like a daunting task to prepare your own fermented foods at home, it really is much easier than imagined. Kefir, in particular, only requires you to get your hands on a small amount of kefir grains which you will then allow to grow in either milk or water. Kimchi is equally as easy to make, needing nothing more than a selection of suitable fresh vegetables, garlic, spices, vinegar, miso paste and fish sauce.
Making your own restaurant-inspired food at home is not nearly as difficult as it may seem. As long as you familiarize yourself with both the look and the taste of your favorite dishes, have a general food knowledge and possess some basic cooking skills, you will soon be able to whip up meals like some of the best chefs in India.