M
y association with Coffee Bean & Tea Leaf (CBTL) is a year old. I have been at the launch of its first store in Bangalore in 1 MG Mall. At that time as it was the launch party, I did not get much chance to learn more about the coffee and tea….If you are interested in knowing more about the store then you can check it out in my post
here
…. But today I have been to the store to be part of its Golden Jubilee Celebrations. A bunch of food bloggers were invited to review the new changes in CBTL….Wondering what's new at CBTL then scroll to know more….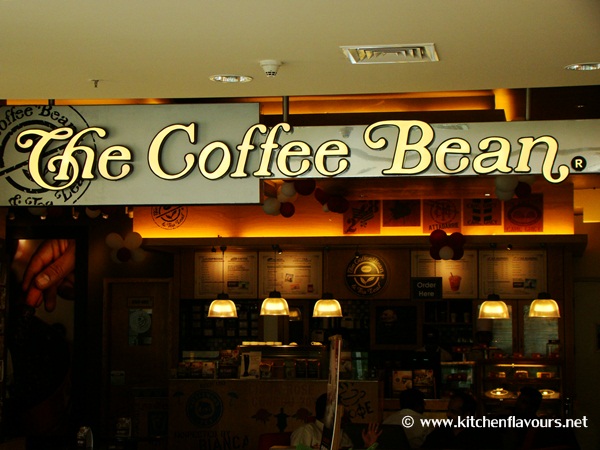 ABOUT THE BRAND:
The Coffee Bean & Tea Leaf®, founded in 1963 by Herbert B.Hyman in Los Angeles, has been a pioneer in bringing gourmet coffees and teas to the global connoisseur. Over the years, Coffee Bean & Tea Leaf has established itself as the oldest and most trusted brand, preferred by coffee & tea lovers across the world. Coffee Bean & Tea Leaf is the oldest and largest privately-held specialty coffee and tea retailer in the United States with more than 1000 stores across 25 countries. This year, the iconic brand celebrates 50 years of heritage and passion of delighting its patrons worldwide. Operational in India since 2008, the brand also completes five successful years in India, where again it has played the pioneer's role in introducing the finest coffees & teas around the world to Indian coffee & tea lovers.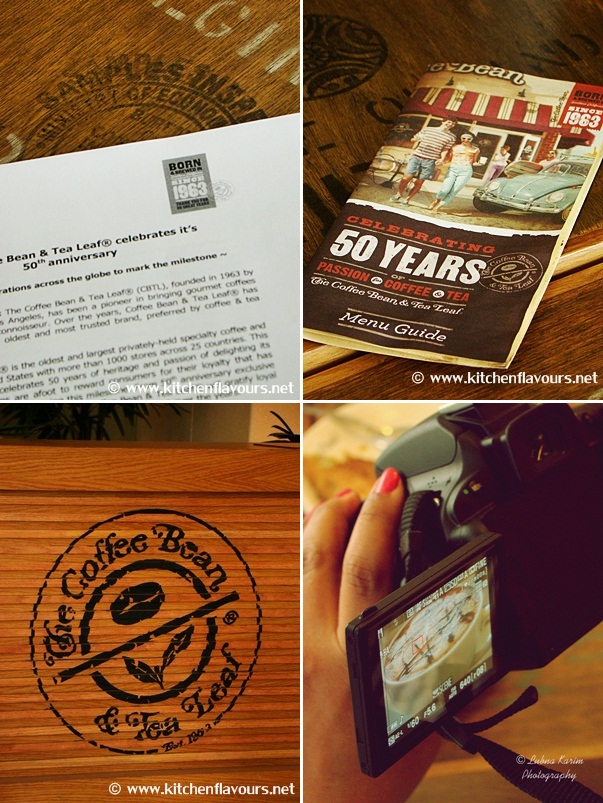 INTRODUCING NEW MENU:
To add to the celebrations, a new food menu with variety of gourmet and healthy eating options has also been introduced. From all day breakfast, gourmet bites, fresh bakes, main course to desserts, and the new Coffee Bean & Tea Leaf® menu is a foodie's delight offering novel options like Chilly Cheese Baguette, Pizza Curl, Banofee Cake, Silky Mousse and much more….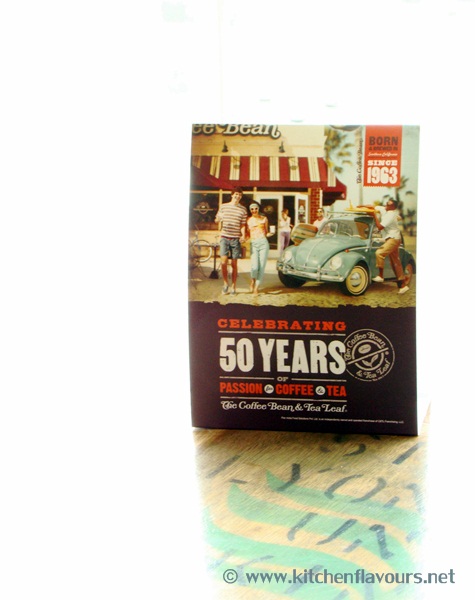 NEW LOGO TO MARK THE OCCASION:
To celebration the occasion of glorious 50 years, CBTL has also unveiled a new logo, which bears the words: "Passion for coffee and tea". The logo reiterates the landmark in the brand's history, paying tribute to its patrons and thanking consumers for their continuous support over the years. The log has got that rich vintage feel, which will sprung back to an era where the Hollywood actress use to wear that beautiful summery frocks, with hat and bob hair style…crossing the legs and sitting in a corner coffee shop sipping out the coffee gracefully….smiling at the hero…..and love that caption too which says "Passion for coffee and tea", which is just perfect for the celebration…..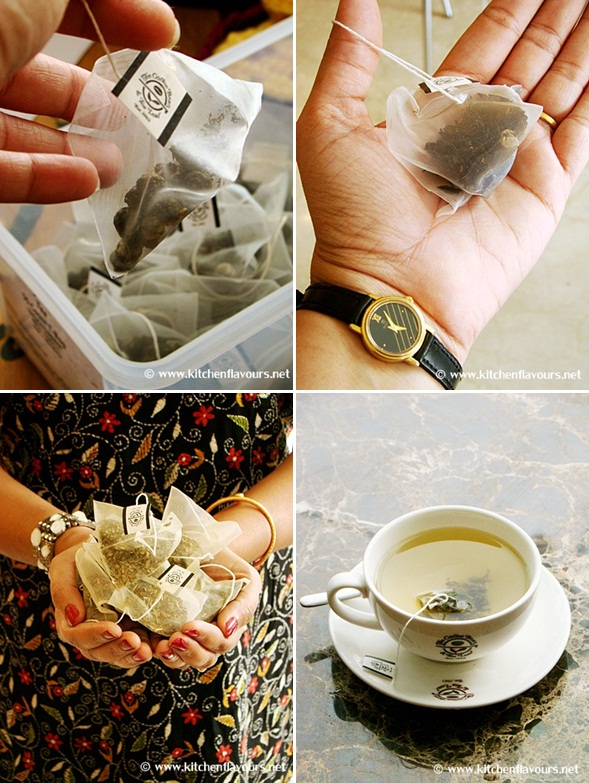 ABOUT TEA at CBTL:
Mr Zameer Ahamed, Asst. Operational Manager at CBTL gave us 'The Tea Guide' which was loaded with a lot more information on 'TEA'. When Mr.Zameer bought boxed loaded with different types of tea leaves which are custom made at CBTL…The aroma just lifted my spirits….it was heavenly….You can see in the picture…the four different varieties of flavoured mixes which are mainly used in making tea at CBTL.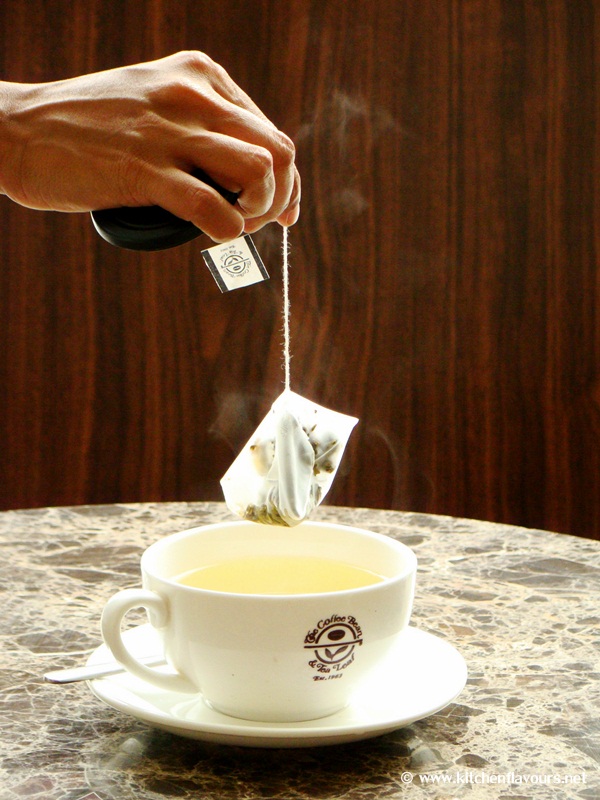 BLACK TEAS: The finest black teas are distinguished by extensive hand processing to achieve the full oxidation that is crucial in the development of the exceptional black teas at CBTL. Depending on the tastes there are varieties to soothe every taste bud….From floral flavour to spicy to brisk…you get lot more options to choose from in this category….
FLAVOURED TEAS: Flavoured by hand to create a unique, distinctive taste that is perfectly balanced with the essence of the whole leaf tea. To get that rich flavour, this variety of Raspberry Ceylon is hand plucked in a special "Morning Dew Pluck" which provides an exotic sweetness to the tea's overall flavour.
GREEN TEAS: Directly after plucking, the green tea leaves are pan-fired or steamed in order to stop the oxidation process. The tea is then dried once again to remove excess moisture. During the entire process, the leaves maintain their soft and supple texture. 'Genmaicha Green' is a blend of high quality Sencha tea, toasted rice and puffed rice. The Sencha leaf provides a delicate taste while the toasted rice adds body and sweetness to the finish. Genmaicha Green originated from Japan.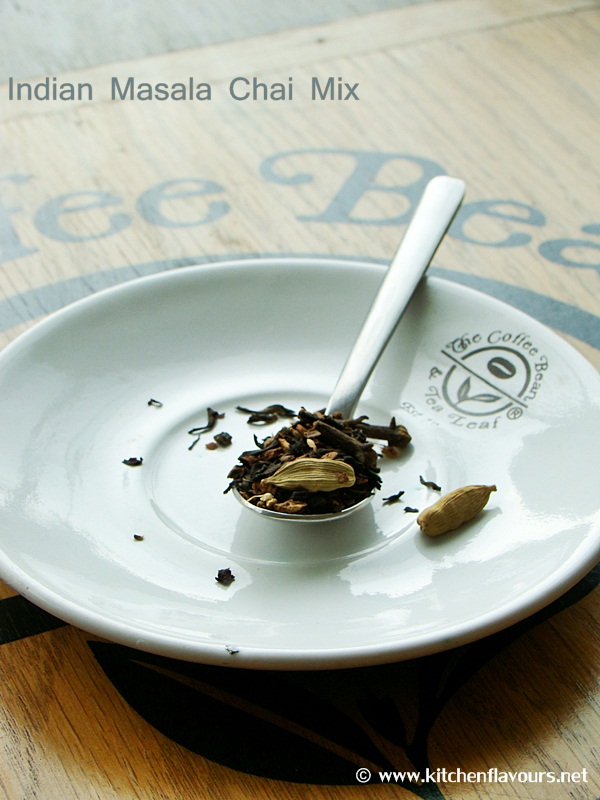 FLAVOURED GREEN TEAS: These are flavoured by hand to create exceptional green teas that are invigorating and well-balanced. Moroccan Mint, hand-crafted from the gunpowder green tea and flavoured with aromatic peppermint, this invigorating green tea closely follows the classic 18th century recipe created by tea traders in Casablanca. This originates from China.
BLACK TEAS: The finest black teas are distinguished by extensive hand processing to achieve the full oxidation that is crucial in the development of the exceptional black teas available at CBTL.
HERBAL INFUSIONS: Herbal Infusions at CBTL are 100% caffeine-free, making them the best alternative to regular tea or coffee.
FRUIT INFUSIONS: These are naturally caffeine-free and are made with large pieces of dried fruits with fruit flavours added, giving the infusion of fresh, bold fruity taste.
DECAFFEINATED TEAS: CBTL offers decaffeinated teas which are 97% caffeine-free. Although most of the caffeine is removed, the depth of flavour remains intact.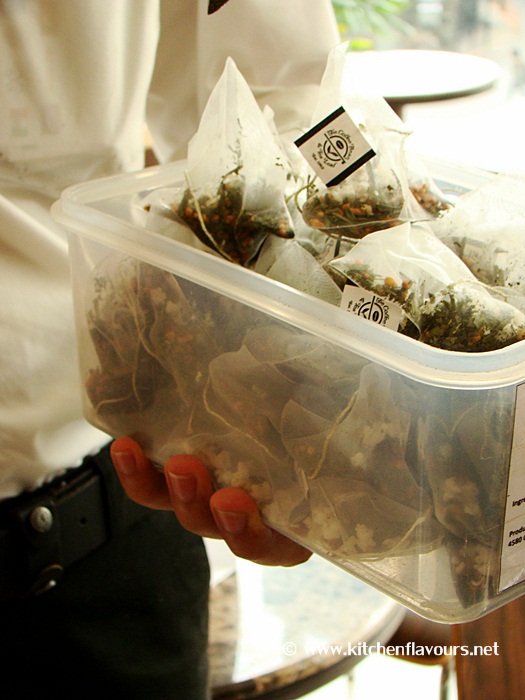 ABOUT CUSTOM MADE TEA BAGS:
As you can see in the pictures, the tea bags look simply beautiful. These are designed or rather say custom made by CBTL, for single-serving. The unique pyramid shape of the bag allows the whole leaves and a bud to fully expand, providing maximum flavour infusion and the same richness  and aroma you savor when brewing tea in an infuser or teapot.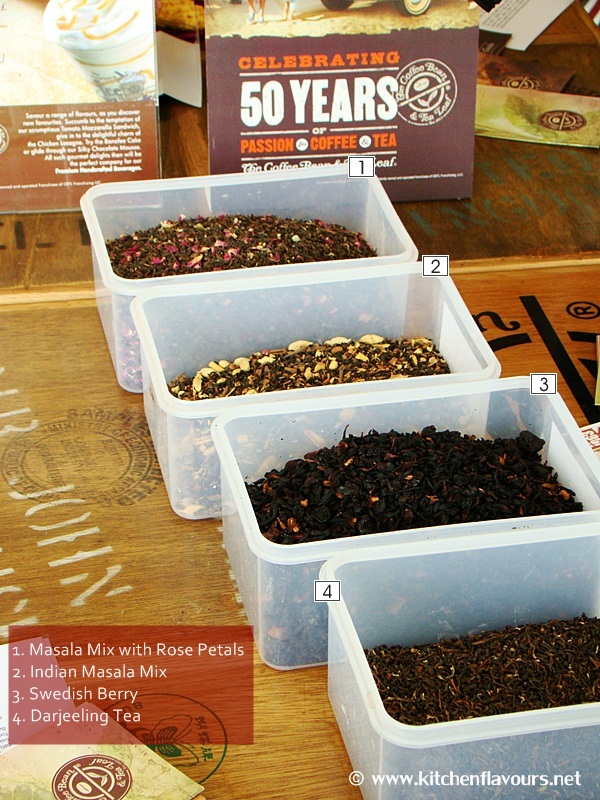 WHOLE LEAF TEA:
All teas (black, green and oolong) originated from one bush, the camellia sinensis, which is distinguished by its dark green leaves. At harvest time, the glossy whole leaves and young new shoots are plucked ad processed for optimal freshness. Each new crop if tea derives its unique taste from the particular environmental and climatic conditions of that region, including soil and water, as well as the care and technique of the tea grower. Whole leaf tea allows the tea leaves to retain their natural properties resulting in the most flavourful cup of tea possible. During the steeping process, the leaves unfurl, releasing their flavour into the water. By exclusively using whole leaves in both our whole leaf tins and tea bags, CBTL assures Simply the Best™ cup of tea.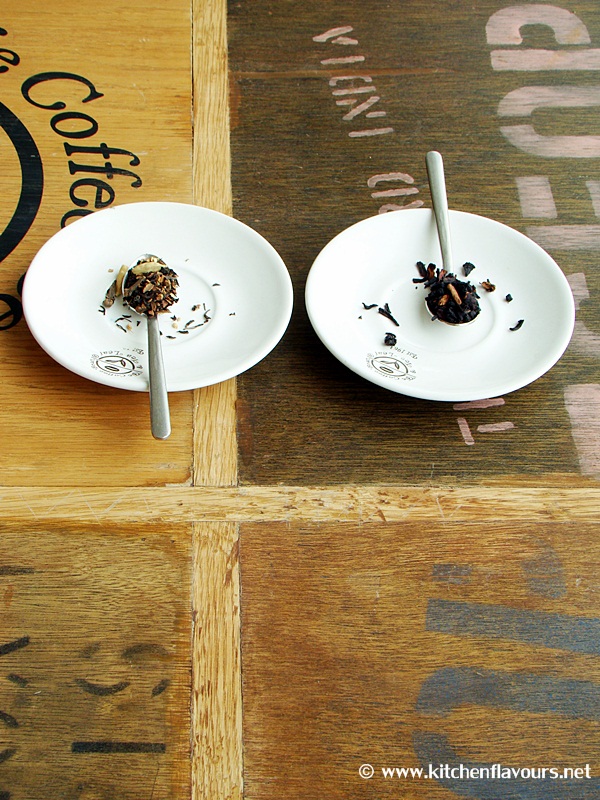 THE COFFEE GUIDE AT CBTL:
I was quite surprised by seeing the Coffee Guide at CBTL, they were whole lot of options to choose from…CBTL says the flavour of each coffee is dependent upon the origin, characteristics and the roast degree of each coffee. This combination is used to determine the flavour category of each coffee: 'Light & Subtle', 'Rich & Smooth' and 'Dark & Distinctive'. While the origin characteristics influence the look, taste and smell of the coffee, the roast degree also impacts the final product.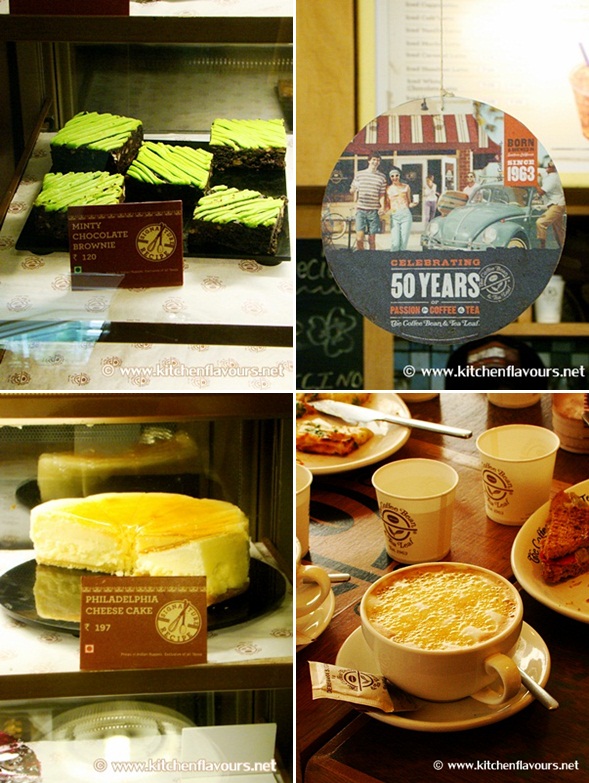 LIGHT & SUBTLE COFFEES: CBTL's lighter coffees are characterised by their mild and delicate flavour and are complemented by light or medium roast. Both mellow and satisfying, these coffees are sure to please every palate.
RICH & SMOOTH COFFEES: These smooth bodied deeply aromatic coffees are characterised by their well balanced flavour and full, fragrant aroma. Each distinctive blend is roasted to perfection to add richness to every cup.
DARK & DISTINCTIVE COFFEES: Medium dark to dark roast coffees are full flavoured with a bold taste and rich aroma, Aromatically complex, each coffee has a distinctive flavour that is well balanced.
FLAVOURED COFFEES: Talking about flavoured coffees Mr.Zameer said these are made with pre ground medium roast coffee that are carefully hand flavoured with natural and artificial flavourings to ensure a rich and inviting full flavoured coffee.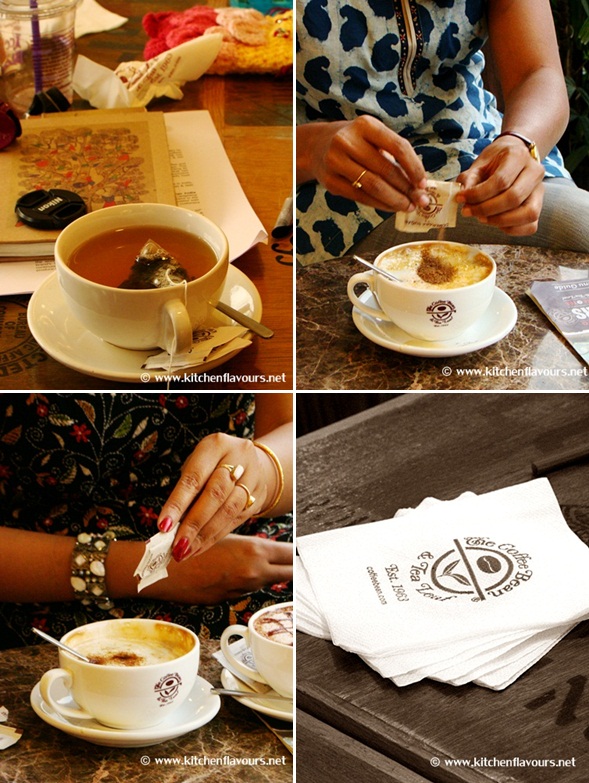 ABOUT NEW MENU OF CBTL:
The new menu of CBTL is quite interesting, with the above mentioned teas and coffees to suit and please every palate, the menu also includes 'Breakfast All Day' section where you get waffles, fried egg/boiled egg/scrambled egg, French toast, etc. for healthier option you can have Egg white omelette too.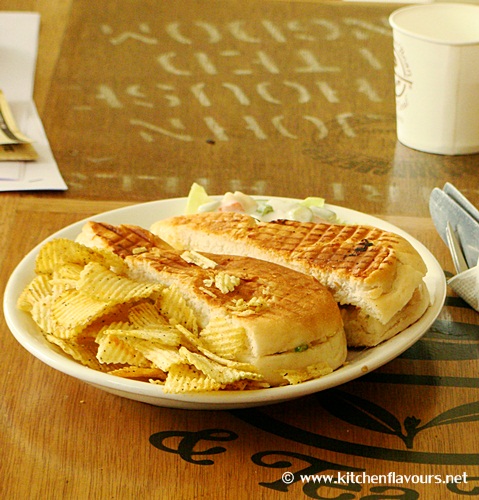 The healthy options in the menu are specified by a small beautiful read  colored heart. They are some add on options too to add to your breakfast. You get 'multi grain crossiant', which is again a healthy option, Banana Museseli with no added sugar muffin to add to your coffee or tea…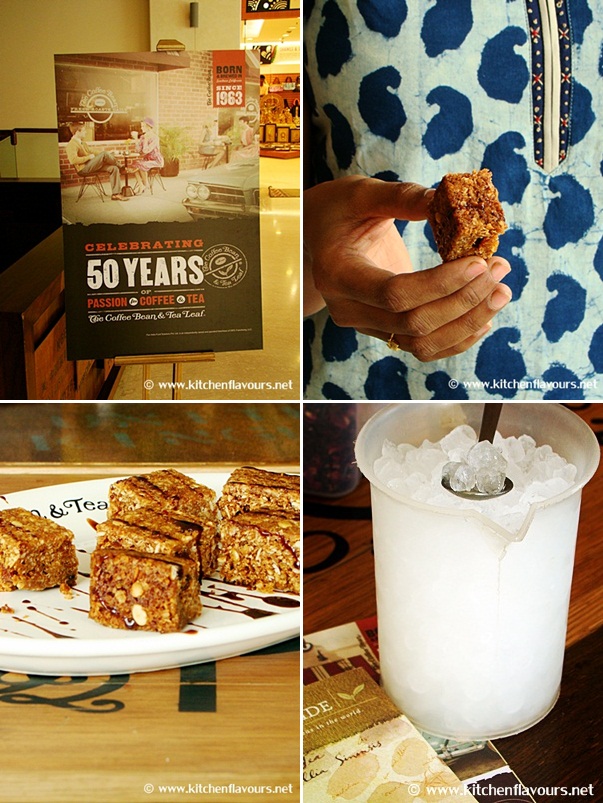 'Oats & Cranberry Bars', which you can see in the picture, were so 'yum'…I personally recommend you to try those when you hit the store next time. They are cookies, biscotti's, bars, Grab N Go Sandwiches, Gourmet Sandwiches, Salads, Gourmet Bites which include 3 Cheese Ciabizza, which you can see in the picture below along with Chili Cheese Baguette, Pizza Curls, etc.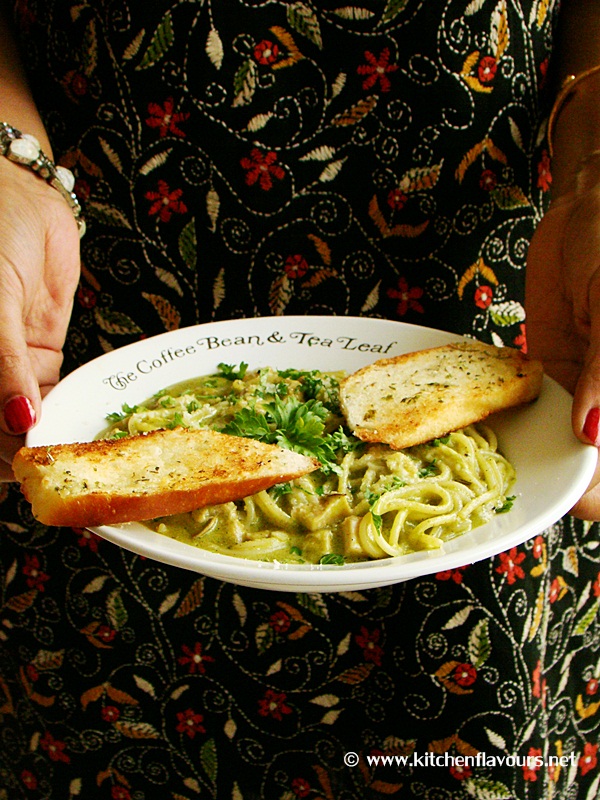 Pasta's at CBTL are die for…I ave never tasted such a creamy and yummy pasta till date. If anything is there that will take me to CBTL gain apart from coffee, then it is pasta. Chicken Lasagne and Spaghetti Roast Chicken & Pesto Cream were the ones I tried and I must say…without any other word I can say these recipes two stand 10 on 10. Rich flavour, perfect seasoning and good presentation. All in all I can say pasta at CBTL rocks.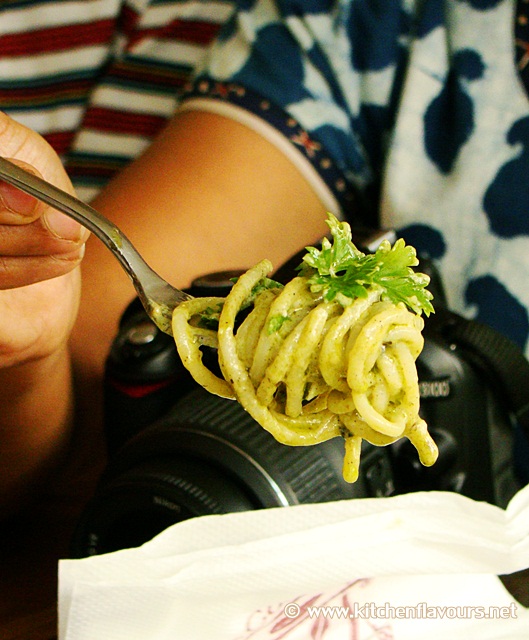 To end on a sweet note, you have got to pamper yourself with an array of cakes where you get good number of options to choose from…..some of the options are Minty Chocolate Brownie, Apple Crumble, Warm Chocolate Pie, etc.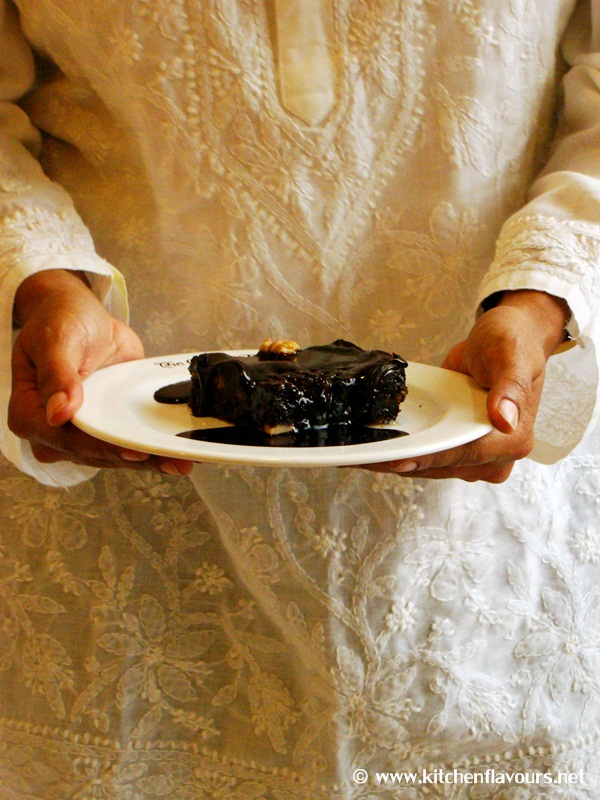 TO END WITH:
The Coffee and tea menu includes the Desi and Videsi style varieties to suit the customer needs. An extensive study on the flavours, aroma, size, temperature, and origin…research on the techniques has refined CBTL to lead the world by their coffees and teas….. Every detail of the recipe or ingredient has carefully taken care off. Filtered or bottled water is only used to brew coffee and tea. Specialised ice cubes are made for the ice teas by CBTL.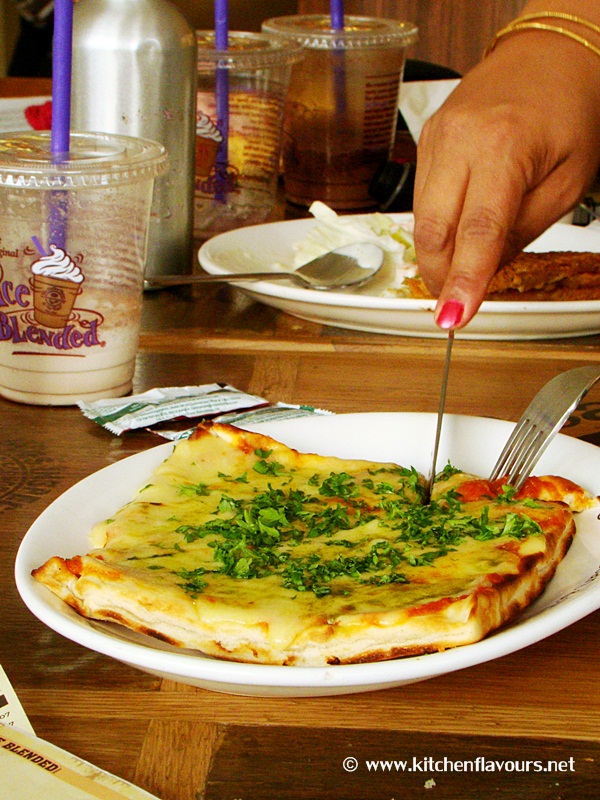 If you are in a mood to sit back and relax, or when you want to be with yourself, or when you want to see the world go by sipping the world flavours,….then CBTL is the destination. Refreshing flavours, rejuvenating aroma, soothing ambiance, pleasing décor, good food, attentive staff, world class flavours of brewed tea and coffee…so what are you waiting for do drop by at CBTL to relax, rejuvenate and refresh……pamper yourself with the world class coffee or tea along with the newly introduced flavours…..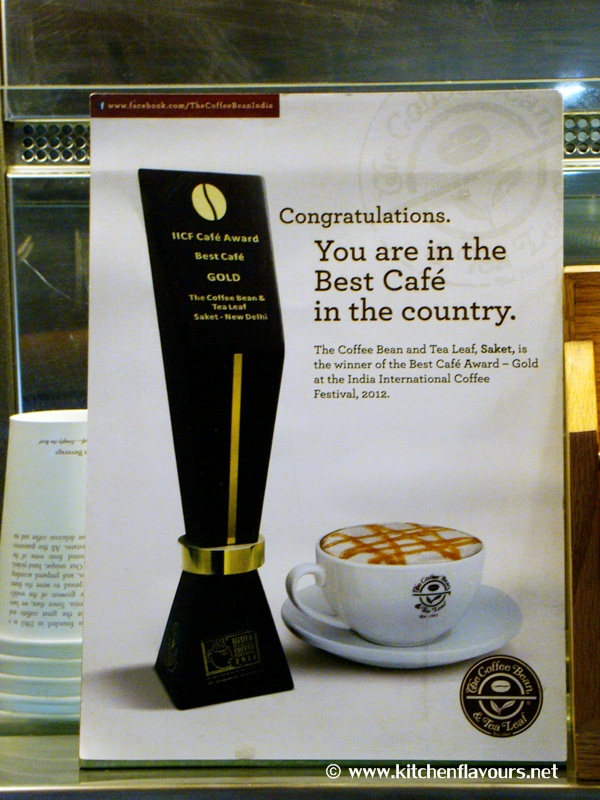 SPECIAL THANKS:
Special thanks to Mr.Zameer Ahmed for taking us down on a virtual tour of tea and coffee estates….explaining the minute details of the brand, waiting with patience while we got busy clicking, clicking and clicking, for suggesting recommending the best from the store and for that memorable CBTL mug with the celebrations logo…Thanks to Anamika who took all the pain in arranging this event.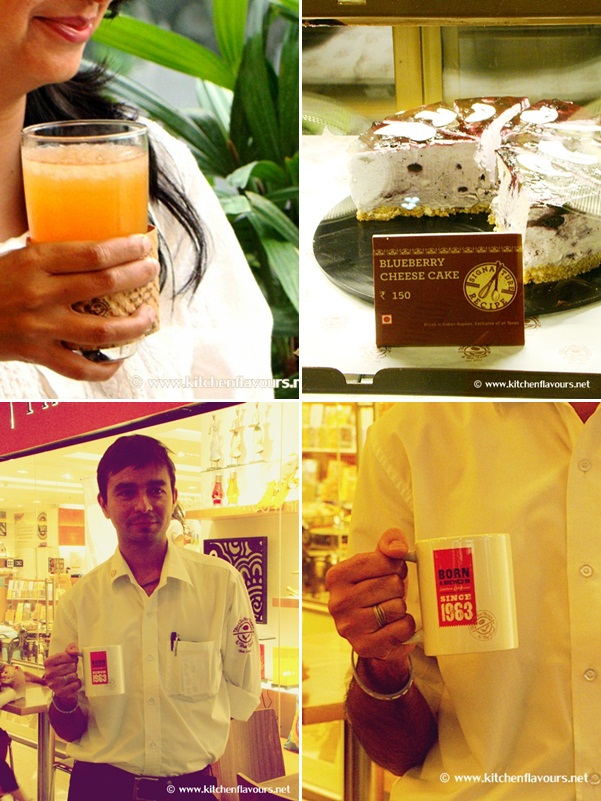 RATINGS:
AMBIANCE: 10/10
DECOR: 10/10
FOOD: 10/10
TEA & COFFEE: 10/10
VALUE FOR MONEY: 9/10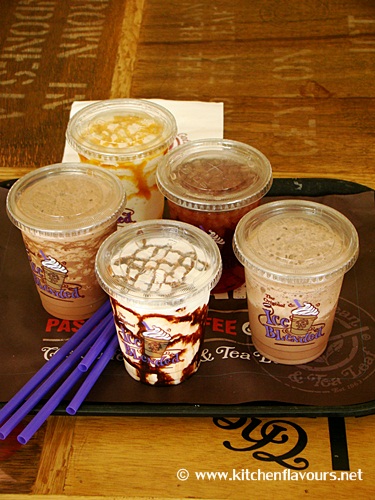 ADDRESS
: CBTL has got 19 stores across India. Click
here
to find a store near you.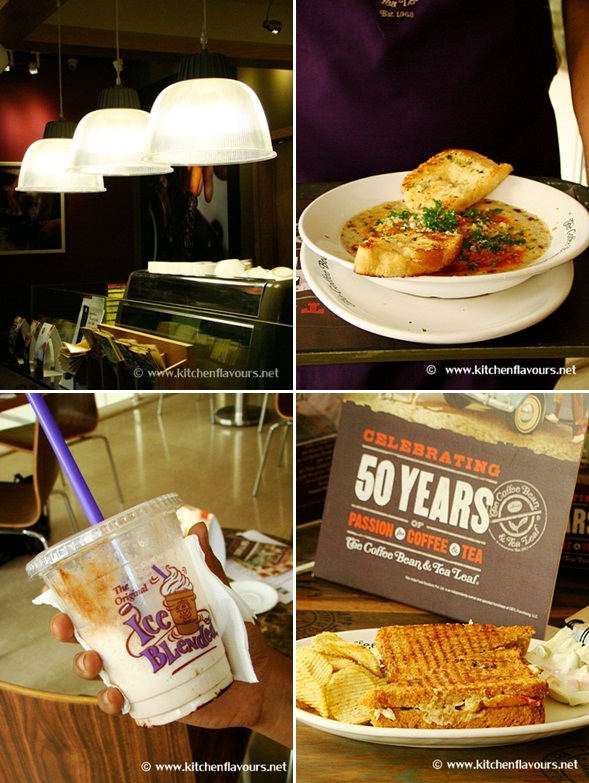 DISSIMILAR: This is not a sponsored post; all views expressed here are by author.