{Ramadan Special} – Kozhi Ada by Zareena of 'My Experiments with Food'
It's been 6 years now and it's like just like yesterday I met Zareena of 'My Experiments with Food' in Bangalore Food Bloggers meet. This is fourth consecutive year she is guest posting during Ramadan. I always look forward for her Kerala special Ramadan recipes. Today she is going to share with us 'Kozhi Ada' which means savory chicken pockets. Let's check in the recipe…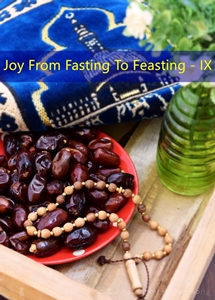 Again Lubna of
Yummy Food
, has given me the opportunity to share a dish that we usually make during fasting. She is doing a great job by bringing the bloggers from all over the world together to share their iftar recipes, so that we can learn their culture, new dishes and also we can try to make different varieties of dishes during Ramadan. Today I am going to share a dish called as Kozhi ada / Savory Chicken Pockets, which is a traditional Malabar delicacy. This is super crunchy outside with a spicy chicken filling inside.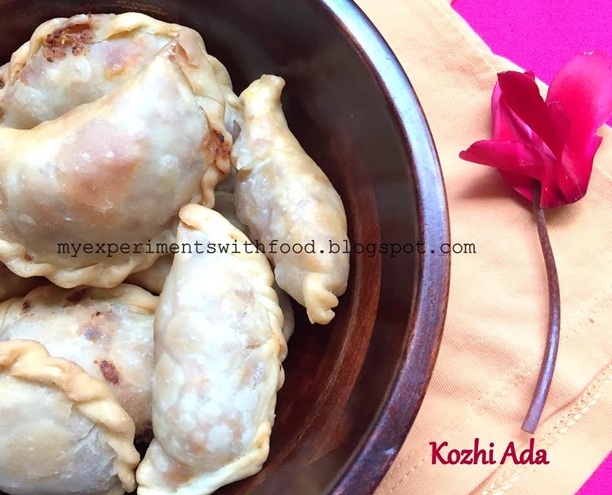 What is Kozhi Ada?
Kozhi means Chicken in Malayalam and ada means a Kerala dumpling, steamed or fried crescent shaped dough filled with sweet or spicy filling. These are similar to samosas, but the filling and the shape is different. These are also super crunchy and crisp.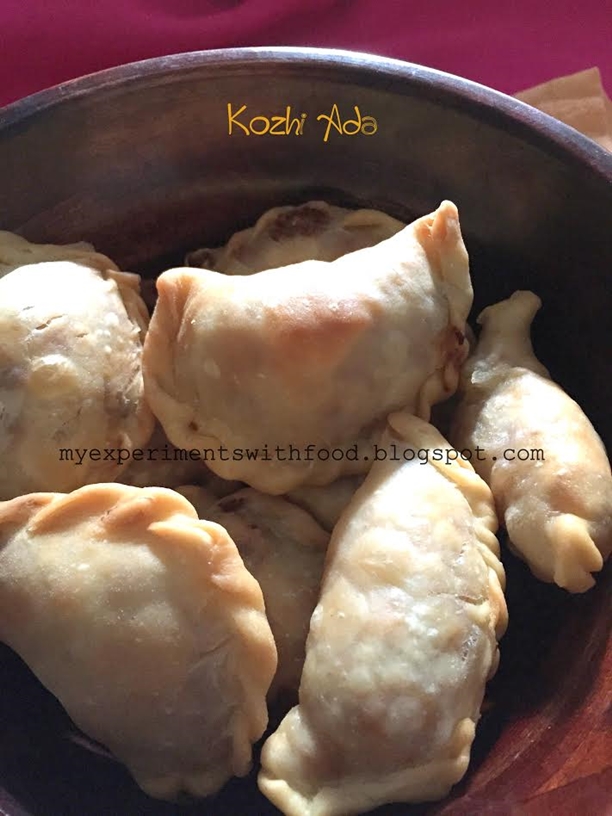 I made this with chicken filling, you can try this with any meat of your choice. This one is unavoidable for iftar snacks in the Malabar region. Just try this out.
Kozhi Ada | Crispy Chicken Pockets
INGREDIENTS:
FOR THE DOUGH:
Maida- 2 cups
Salt- as required
Ghee- 2 tbsp
Water- as required for kneading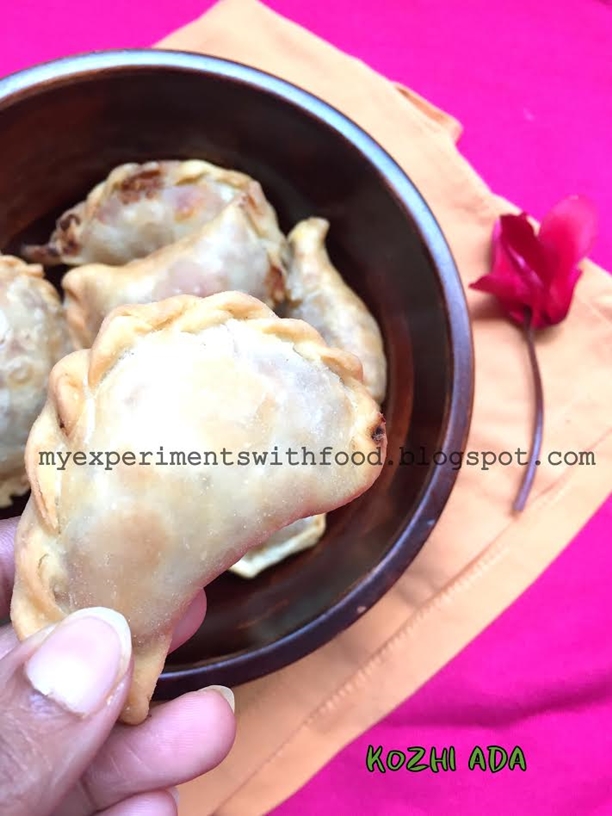 FOR THE FILLING:
Boneless Chicken- 100 gms
Onions (chopped)- 1 nos
Green chillies (chopped)-2 nos
Ginger and Garlic Paste- 1 tbsp
Red Chilli Powder- 1 tbsp
Turmeric Powder- 1 tsp
Coriander Powder- 1 tsp
Cumin Powder- 1 tsp
Fennel Powder- 1 tsp
Garam Masala Powder- 1 tsp
Salt- as required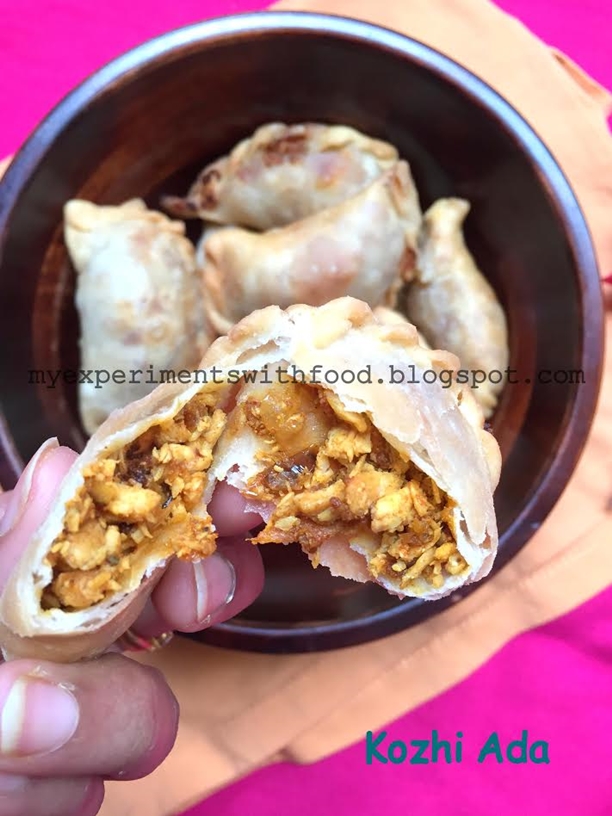 How to make Kozhi Ada
PREPARATION:
Make a dough out of maida, salt, ghee and water. Keep this aside and cover it with a damp cloth.
FOR THE FILLING:
Cook the chicken pieces along with salt using little amount of water. When the chicken gets cooked switch of the flame and let it cool. Shred the cooked chicken using fingers and keep this aside.
Heat oil, add the chopped onions and green chillies. Stir well.
When the onions turn translucent, add all the powders one by one and mix till everything gets blended well.
Add salt and the shredded chicken, mix and switch off the flame.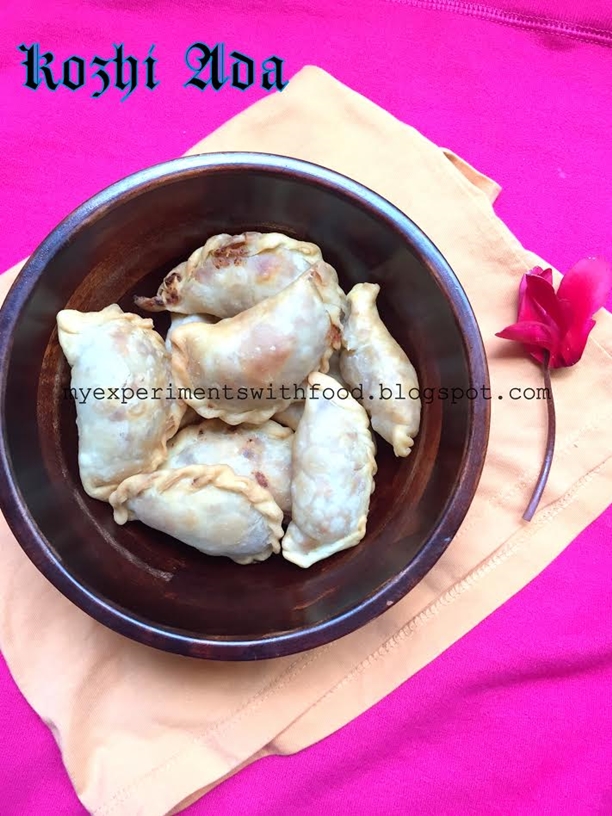 Assembling Kozhi Ada:
Roll out small discs of the dough. The dough should not be too thin and too thick.
Add 2 tbsps of the filling o one half and cover with the other half and pinch the edges (just like how I did for Erachi Pathiri) in a pattern to make a crescent shape.
Keep this aside and continue making till the dough and the filling gets over.
Heat oil in a skillet for deep frying and when it is hot, drop these adas one by one. Do not over crowd the skillet.
Fry till golden brown and it should be crispy and crunchy. Enjoy these delicious cute little adas along with hot masala tea.
Thank you Zareena for being part of this event and letting us know about Kozhi Ada.
You can find Zareena @ Facebook.
Back in,
2015 – Joy From Fasting To Feasting – VIII – Tender Coconut Pudding by Najla of 'Foodie Corner'
2014 – Joy From Fasting To Feasting – VII – Exotic Fruit Cheesecake Pots (No Bake) from Nabeela
2013 – Joy From Fasting To Feasting – VI – Chicken Samosa from Thasneen